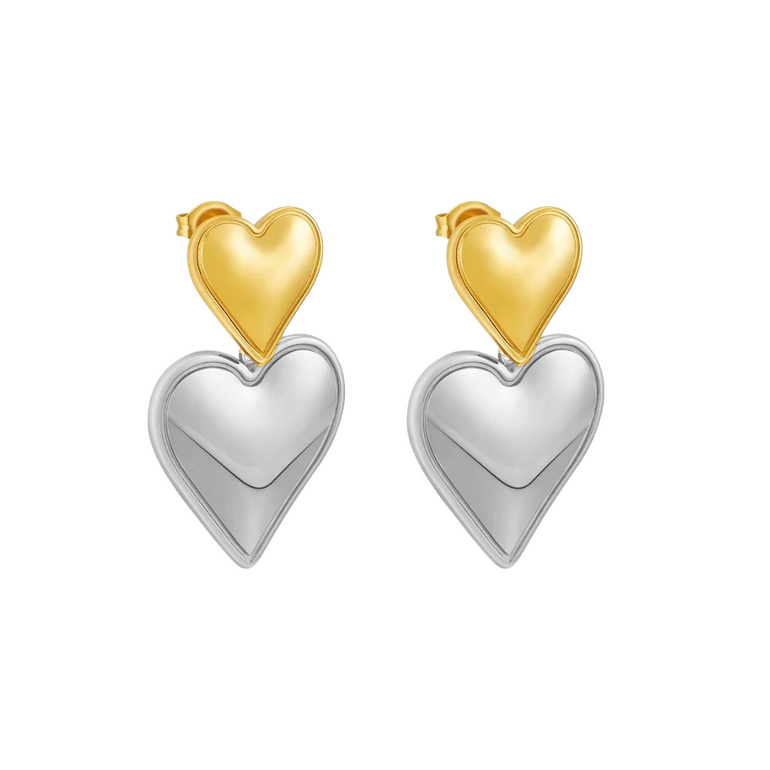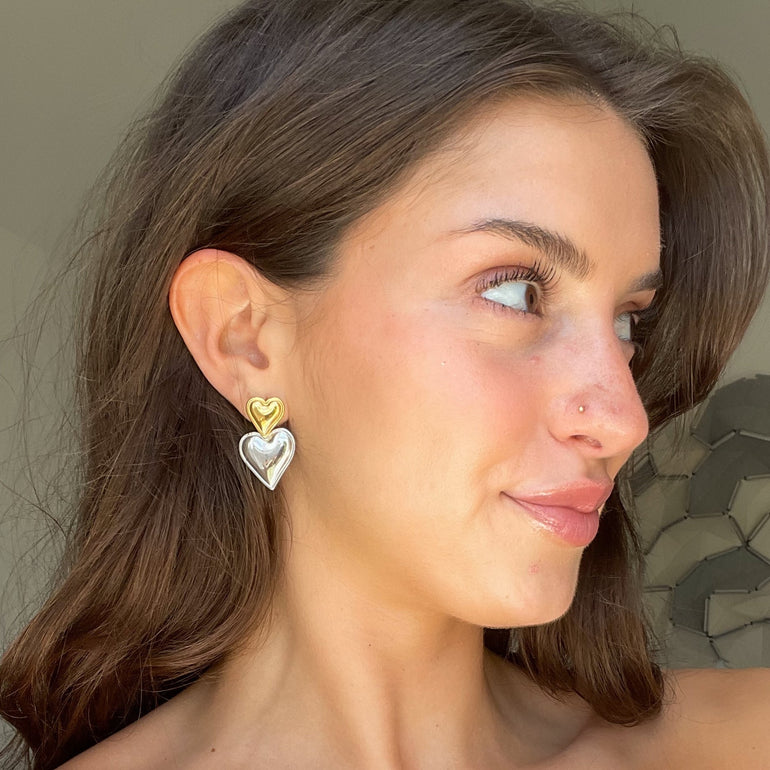 HEART EARRINGS GOLD AND SILVER
Description
Introducing our Heart Earrings. The harmonious blend of silver and gold with our Dual-Toned Heart Earrings. Crafted from 18k Gold Stainless Steel, each earring features a dainty gold heart from which a larger silver heart gracefully dangles. This unique design not only adds depth and dimension but also allows for effortless matching with both silver and gold accessories. Perfect for those who appreciate the versatility of mixed metals, these earrings elegantly unite two timeless tones into one exquisite piece.
Material

: 18k Gold Stainless Steel.

Design: Dual-toned hearts - smaller gold heart atop a larger silver heart.
Highlight: Ideal for lovers of both gold and silver aesthetics.
Care Instructions
Our Jewellery does not require much care, but if you are wearing our 14k Gold Filled and Sterling Silver Jewellery we recommend cleaning them with a polishing cloth!
With our Stainless Steel pieces you can care for them them by putting them in a bowl with water and a gentle detergent. Check out link for more info.
Size Guide
To figure out whether this piece will fit you or not check out our size guide linked here.
HEART EARRINGS GOLD AND SILVER
Shipping and Returns
Fast shipping
Please allow 1-4 business days for us to make and send out your order as everything is handmade in Melbourne!
All our orders are sent out with Australia Post.
Express Shipping will take 1 - 3 business days.
Standard Shipping will take 3 - 10 business days.
Please keep in mind if we do not have your desired item in stock at the time of the order, we will ship out the pieces we do have then send the remainder items when they come back in stock.
Refunds and Returns
We do not offer refunds for 'change of mind'. We only offer refunds for items that are faulty or broken. 
We do not offer exchanges or refunds on sale/marked down items including Black Friday Sale items .
We do not offer exchanges or returns on earrings regardless of if they have been worn or not, for hygiene reasons.
Our warranty is 90 days from purchase date. If your item is out of warranty we can still offer a repair but may incur a fee depending on the fix it requires.
Get in touch
Need us to customise a piece, we do custom orders just email us at admin@aglaeajewellery.com for your request and we will get back to you as soon as possible. Have anymore questions use this contact form.